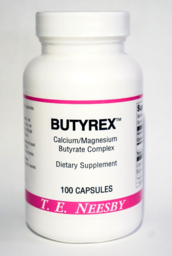 Overview:
Suggested use: 1-2 capsules with each meal
Guaranteed: No yeast, no wheat, no corn, no soy, no dairy products, no artificial colors, resins or fillers
Each Capsule Contains at least 600mg, butyric acid as calcium/magnesium butyrate
Store in cool dry place.Tamper resistant/double sealed
Mfd by T.E. Neesby, Inc Fresno, CA 93720
All product information is provided by manufacturer
Supplement Facts:
Serving Size: 6 capsule
Serving per container: 16
Amount per serving:
Calories 29
Total Fat 4g6% of DV*
Calcium 480mg48%
Magnesium 240mg60%
Butyric Acid 3.6g **
*Percent daily values are based on a 2000 calorie diet
** Daily Value not established
Ingredients: Butyric acid, calcium hydroxide, magnesium hydroxide, medium chain triglycerides. An ingredient not included fordietary purposes but in minute amounts for capsulating is magnesium stearate.