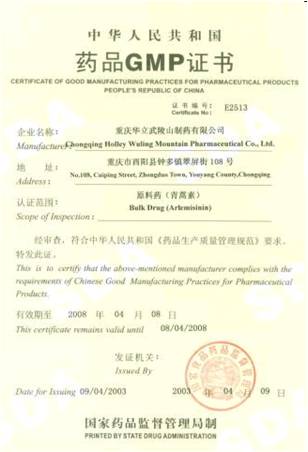 Artemisinin (Standardized, extracted from Artemisia annua L.) – Dietary Supplement Holley Pharmaceuticals and its affiliates have been farming, harvesting, extracting, purifying and manufacturing artemisinin and its derivatives for over two decades. Our artemisinin powder are sold all over the world.
Holley artemisinin is manufactured in our own GMP- certified factories in China and meets pharmaceutical grade standards. Each batch of our artemisinin is assayed for purity by using HPLC and for heavy metals.
Holley artemisinin is tested and used by university labs, research institutes and hospitals for their research projects and medical trials.
Recently, low quality artemisinin products and even counterfeits imported from Southeast Asia are found in the markets. We would like to advise consumers to purchase artemisinin only from familiar sources and do not believe in cheap alternatives. One way to ensure high quality is to ask your vendor to provide you with the certificate proving that their artemisinin was manufactured in a certified GMP (Good Manufacture Practice) facility.