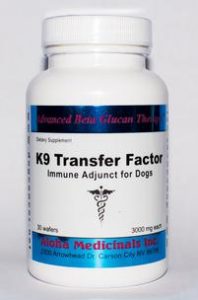 Overview:
K9 Transfer Factor is a premier health supplement intended for dogs facing serious health threats.
Recommended Use: As an adjunct to K9 Immunity, use 1 wafer per day in dogs over 25 lbs. Use ½ wafer per day for dogs under 25 lbs. or as advised by your veterinarian
Contains purified Transfer Factor derived from bovine colostrums and avian sources. Also contains chicken and pork liver for flavors. This supplement is used along with K9 Immunity to increase its bioavailability.
Mfd by: Aloha Medicinals, Inc. Carson City, NV 89706
All product information is provided by manufacturer
Supplement Facts:
Serving size 1 wafer
Servings per container 30
A proprietary blend of concentrated extracts from:Immune proteins and Transfer Factors derived from Colostrum and Avian sources, Super Oxide Dismutase (SOD) Natural liver flavoring
% of Daily Value:3000mg*
*Daily Value Not Established